Categories
Moto G13: Power-Packed Performance and Features at an Affordable Price!
Posted on April 14th, 2023 11:08 PM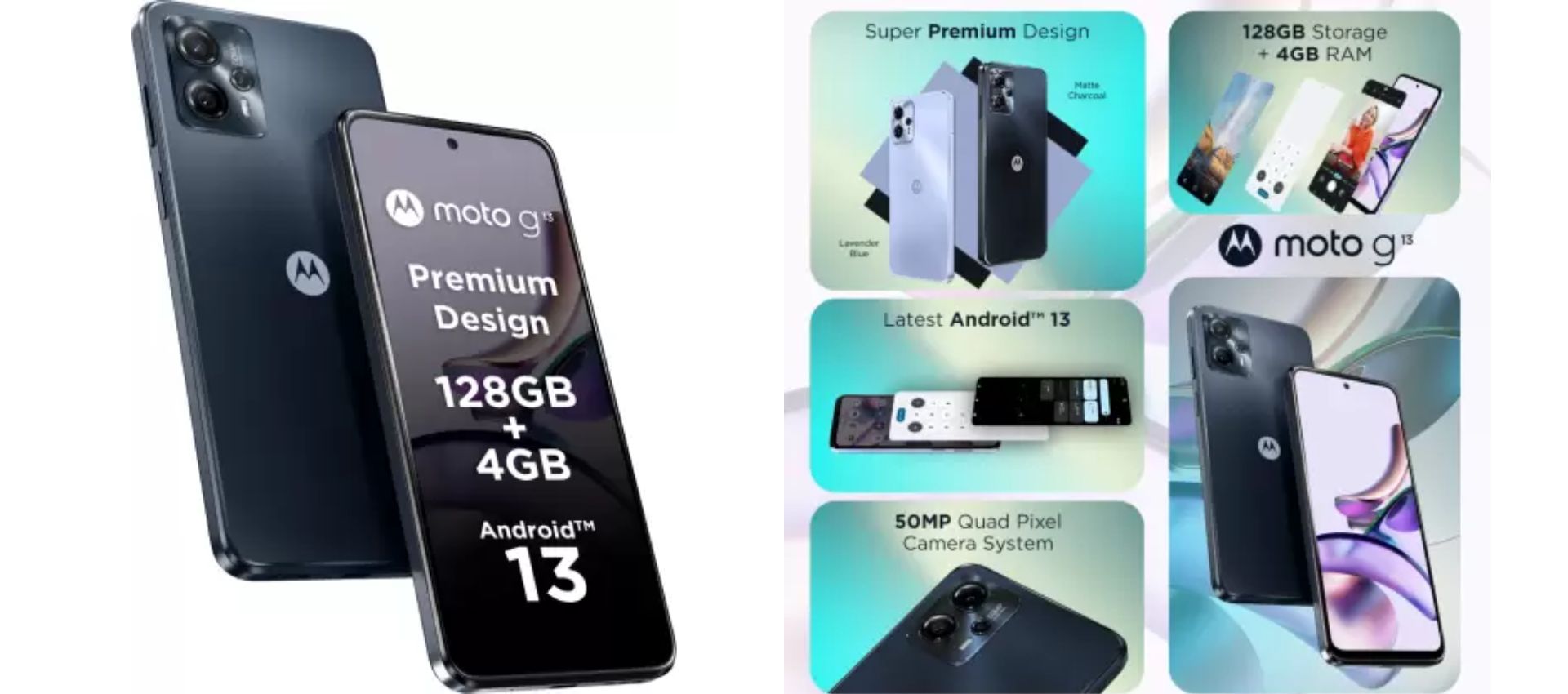 The Moto G13
The Moto G13 is a budget smartphone that offers an incredible combination of features at an affordable price point of just 10k. With its 4 GB RAM, 128 GB ROM, Helio G85 Processor, and 5000 mAh battery, the Moto G13 is designed to deliver a powerful and seamless performance for all your day-to-day tasks and entertainment needs.
Display and Camera:
The Moto G13 boasts a 16.51 cm (6.5 inch) HD+ display that offers vibrant visuals and an immersive viewing experience. Whether you're browsing the web, watching videos, or playing games, the HD+ display ensures crisp and clear visuals with rich color reproduction.
Capture stunning photos and selfies with the Moto G13's triple camera setup. It features a 50MP primary camera that captures detailed and sharp images, along with a 2MP macro lens for close-up shots and a 2MP depth sensor for professional-looking portraits. The 8MP front camera lets you capture stunning selfies with natural skin tones and enhanced details, making your selfies stand out on social media.
Performance:
Powered by the Helio G85 Processor, the Moto G13 delivers smooth and lag-free performance, allowing you to multitask effortlessly and run your favorite apps and games without any hiccups. The processor is optimized for gaming, ensuring a lag-free and immersive gaming experience with high-quality graphics and smooth gameplay.
Storage and Battery:
The Moto G13 comes with 4 GB of RAM and 128 GB of internal storage, providing ample space for all your apps, photos, videos, and files. You can also expand the storage further using a microSD card, giving you the freedom to store more of your memories and entertainment content.
The 5000 mAh battery on the Moto G13 ensures all-day battery life, allowing you to stay connected and productive without worrying about frequent recharging. You can enjoy your favorite movies, play games, browse the web, and do more without having to constantly look for a charger.
Software and Connectivity:
The Moto G13 runs on a near-stock version of Android, providing a clean and clutter-free user experience. It comes with the latest Android version and regular software updates for improved performance, security, and features.
The Moto G13 also offers seamless connectivity options, including 4G LTE, Wi-Fi, Bluetooth, and GPS. It also features a USB Type-C port for fast charging and data transfer, a 3.5mm headphone jack, and a dedicated microSD card slot for expandable storage.
Conclusion:
The Moto G13 is a feature-packed budget smartphone that offers a powerful performance, impressive camera capabilities, ample storage, and long-lasting battery life, making it an excellent choice for those looking for an affordable smartphone with premium features. With its Helio G85 Processor, 4 GB RAM, 128 GB ROM, and 16.51 cm (6.5 inch) HD+ display, the Moto G13 delivers a smooth and immersive user experience for gaming, multimedia, and day-to-day tasks. So, if you're in the market for a budget-friendly smartphone that doesn't compromise on performance or features, the Moto G13 is definitely worth considering!