Categories
Best Laptops for Professionals to Buy at No Cost EMI
Posted on January 6th, 2023 06:17 PM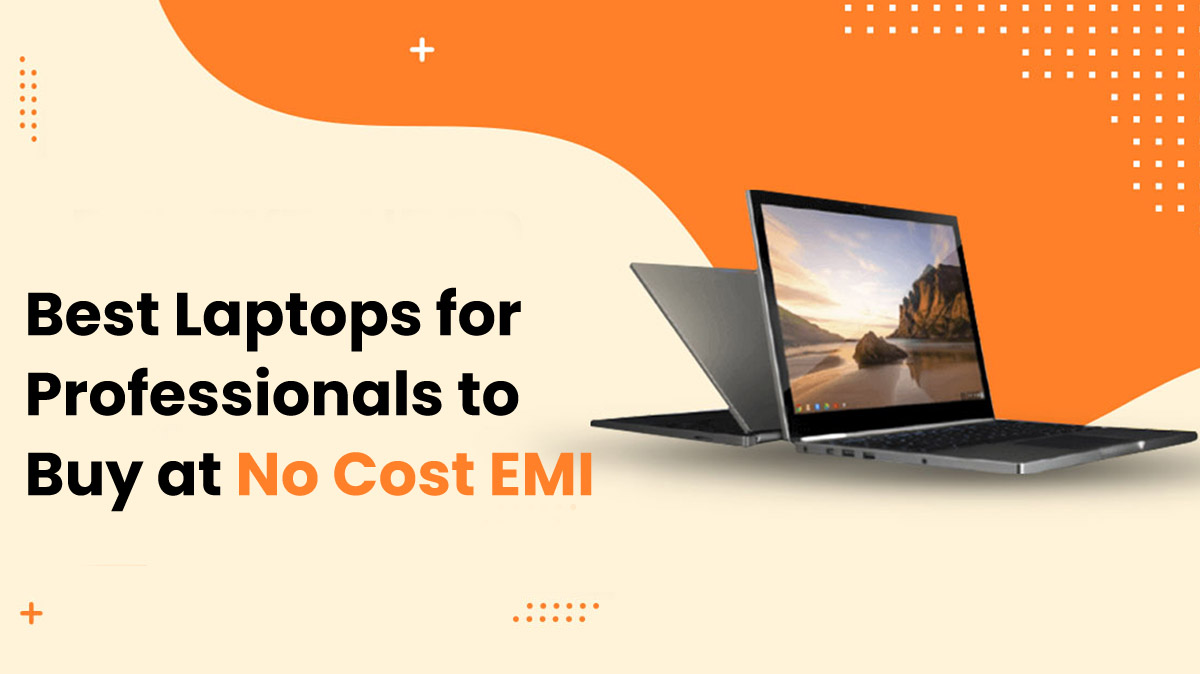 In today's era of convenient living, no one wants to directly make a huge investment in electronics, appliances, mobiles, and other such accessories. People are switching to more affordable and easy-to-pay methods to meet up with their demands and needs effortlessly. For this reason, payment methods like EMI have recently seen a boom in many sectors, including e-commerce businesses.

Usually, people opt for this type of service for products or electronics that are expensive and require a vast amount such as laptops.

Professionals who want to purchase laptops for their daily tasks often face difficulty because of such high prices and can really benefit from such payment methods. So, if you are one such professional, looking to purchase a suitable laptop for yourself, this article is for you.

We have come up with some of the best laptops for professionals to buy at no cost EMI. Check out the list below.

This powerful Lenovo laptop can be another good option that you can trust when purchasing
laptop online on EMI. The screen size is 15.6 inches with a resolution of 1920x1080 pixels. It is both thin and light which allows professionals to carry it wherever they go. The laptop comes with 8GB RAM size and a whopping memory of 12 GB.

You can purchase it for as low as Rs. 6342/ month with your EMI plan and can change it as per your choice.

Buy Asus Vivobook online with no cost EMI payment option to cover all your professional needs. It has a standing screen display size of 15.6 inches and a processor speed of 1.3 GHz. Furthermore, the laptop has 16GB RAM and belongs to the Core i7 family.

The maximum memory supported by this variant is up to 16 GB so that you can increase your memory space whenever you need it the most. Get this laptop at a price as low as 7349/ month with a flexible EMI option available.

Another wonderful pick for professional laptops is this Dell Laptop which comes with multiple features and is powerful enough for all your professional tasks. It is made ideal for everyday use and its battery lasts up to 7 hours.

The laptop offers an expandable memory of up to 16 GB so that you can increase your memory space as and when needed. You can get this laptop with a simple monthly EMI starting from 5443/ month.

This Lenovo gaming laptop is an excellent choice for all those who are planning to buy gaming laptops because of its high configuration and heavy usage. It is perfect for professionals who deal with multitasking on a regular basis.

The laptop offers a battery backup of up to 6 hours and has an SSD capacity of 512 GB. Furthermore, it has NVIDIA GeForce GTX 1650 graphic processor and 16GB RAM. You can purchase this wonderful pick at an EMI starting as low as 7866/month.

Different Methods To Buy Laptops on EMI
There are several methods through which you can get no cost EMI laptops. A few of them are -

Paying Through EMI Cards
EMI cards are one of the most suitable options to pay with for such purchases. An EMI card is a pre-approved loan through which you can easily purchase your products and pay in multiple EMIs. In this case, you don't need any credit or debit cards to pay, and is super easy to access. You can use your EMI card to buy laptop on EMI without any hassle or effort.

Personal Loans
Another option that you can opt for is personal loans. Many lenders in the market can offer you several personal loans to choose from. Buying electronics on EMI through personal loans is not only affordable but also makes it convenient for the customer to repay according to their choices.

Startup Lenders
The advent of the digital age has transformed the entire customer experience with flexible and customer-oriented services. You can easily look out for the startups that are providing electronics on EMI to purchase your dream laptop. The process is completely digital so that anyone can easily access its benefits.

You can purchase your very own laptop or any other accessory of your choice with instant approval and fast delivery through such platforms.

Advantages of Purchasing Laptops on No Cost EMI
The fact that EMI comes with an attachment of a certain amount of interest to be paid is something that scares off the customers the most. It eventually leads to an increase in the overall price of a product which affects consumers' pockets and budgets to a great extent.

So, what if we tell you that you could actually purchase professional laptops at No Cost EMI at the ease and flexibility of your choice? To drive your decision towards a "yes," we have listed a few of the advantages of purchasing laptops on EMI.

By selecting EMI as your payment method, you get the flexibility to pick an installment plan as per your suitability and monthly budget. Also, you get to decide your entire payment structure like how many installments you would like to pay in, according to your convenience which makes the whole process much smoother.

Furthermore, with a no-cost EMI, it isn't necessary to have a credit card or debit card to get your EMI plan started, rather you can take several other methods to get the ball rolling. But the main advantage of choosing such a payment option is the fact that you get to pay the same amount for your product without any extra interest and at your comfort and choice.

Conclusion
So, if you have been dreaming of getting yourself a professional laptop, now is the time. Keep all your worries about the down payment, interest rates, and hefty procedures of procuring loans aside with the benefit of options like no-cost EMI.