Categories
Fastest and Easiest Way for Online Shopping on EMI
Posted on November 22nd, 2022 06:15 PM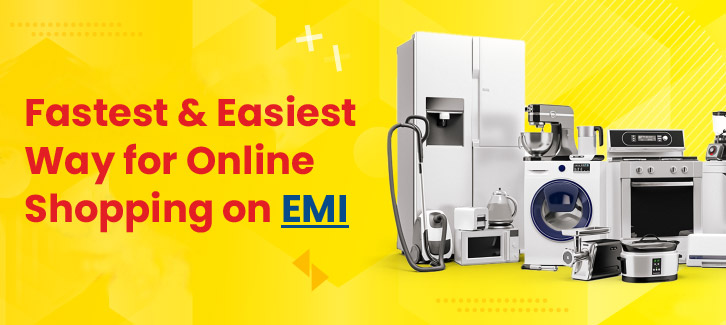 Who doesn't want to have the latest electronics and gadgets, or high-end phones? Well, nearly everyone wants these things but very few can afford them as paying for these items can burn a hole in your pocket. If you are on a shoestring monthly budget, the good news is that you can still enjoy the pleasures of online shopping without worries.

The way forward is equated monthly installments or EMIs. You can enjoy online electronics shopping in India and buy TVs, laptops, ACs, fridges, and more without cutting corners with the help of EMIs. In fact, you can buy anything you have your heart set on with the help of monthly installments at Zebrs.

In case you are wondering why people are opting for shopping online on EMI, here are some compelling reasons and benefits that you should be aware of:

Installments Fall Easy on Your Pocket
When you shop online for electronics and gadgets, you do save money as online retailers do not have the same overheads as brick-and-mortar stores. Nonetheless, the cost of your purchase can eat into your monthly budget. You can get rid of this problem with EMIs.

Zebrs enables you to buy what you want and convert the cost into affordable and easy installments. As a result, you do not get stressed and can easily accommodate the monthly payments without stretching your budget.

Get Quick Approvals for EMIs
Previously, it used to be a pain and long-drawn process to get approvals from credit card companies to convert a large payment into EMIs. However, with Zebrs, that is no longer the case. There is minimal paperwork and the entire approval process takes place digitally. So, you get approval within no time.

Zebrs has collaborated with trusted and reliable lending partners and with its experience in this field, it works to ensure that buyers get approvals quickly so that they can purchase what they want on simple and attractive EMIs.

No Initial Out-of-Pocket Expense
The best part about online shopping on EMI is that you do not have to worry about making a down payment to finalize your purchase. Whether you want to purchase a feature-filled TV or you want a high-end smartphone, you can do so without spending anything from your pocket.

With the help of EMIs, you can get what you want and pay the total cost through affordable monthly installments. The lending partners that Zebrs collaborates with offer no-cost EMIs, wherein they do not levy interest on the amount. Instead, what you pay for an item is what you will repay in the form of equated monthly installments. This makes shopping online on EMI an extremely attractive proposition.

In Conclusion
Online shopping has revolutionized the way brands and customers interact and engage. If you want to enjoy the pleasures of online shopping from the comfort of your home, you cannot ignore the convenience of monthly installments. It is a quick and hassle-free way to buy what you want and still live within your means.